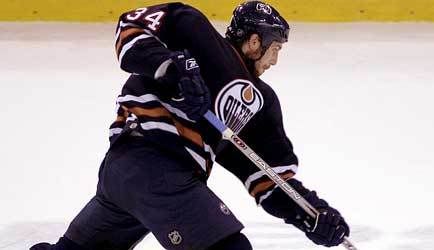 Just a couple notes from tonights game:
- I couldn't believe how white my knuckles were after that two minute 5-3. Great job by Horc to knock down those two passes and get the puck out of the zone. Garon also came up with a couple big saves.
- Robert Nilsson continues to produce offense without hurting the team defensively. This kid really deserves some credit at some point. That pass to Fernie on the game tying goal was a beauty, he patiently out waited Walker to free up the lane.
- I really think Souray is the kind of guy that needs his coach to put him in a position to succeed. I think MacT needs to keep him off the ice at EV and run him dry on the PP and PK. Further, I don't think Souray should ever lead a breakout on the powerplay with Pitkanen on the ice, it just doesn't make sense.
- Pisani is playing great. I remember a specific play in the second where Nilsson skated into heavy traffic at the St Louis blue line. He got stuck and looked like he was going to turn it over, but at the last second he frantically threw it in Fernando's direction, who promptly got it in deep then went off for a line change. Certainly reminiscent of Smid and Staios' dynamic. I don't think it's any coincidence that Gagner and Nilsson have picked up their game since Fernando's return.
- Garon had a solid outing. The first goal was stoppable, but the other 3 were 5 star chances. His success in the shootout is actually starting to look repeatable; could it be that his unorthodox style is more effective in the shootout? All I know is that I feel pretty confident when we end up in a shootout. When the score was 4-3 for the Blues the cameraman on the St. Louis feed cut to some cute kid holding up a "It's my Birthday" sign. I joked to Matt that the kid was going to receive a shootout loss for a present. I'm glad I was right.
- Smid and Staios both had ugly games, but at least in the case of the former, we can expect some improvement over time. Unfortunately for Staios, he is unlikely to get any better. Steve made two egregious mistakes on the Weight tip-in goal. First he rung the puck around the boards late in a shift when he had time for a controlled breakout. Then, he left Weight uncovered and unchecked for the tip in.
- We have a legit top line that other coaches are going to have to respect. Penner managed to carry the momentum he gained while playing with Horc and Nilsson into his second stint on the PHH line. Further, Horcoff is excelling in a offensively focused role at ES, while still coming up big on the PK.
- Grebeshkov is great as long as you limit his ice time. He does create some offense and as long as you aren't asking him to check Iginla, seems to be able to hold his own in the D-zone.
- Pitkanen with another solid effort. Matt and I are both ecstatic with his ability to jump into plays on a consistent basis, yet still get back into the play when the puck heads back the other way.
- Tommy Gun had a bit of an off night, by my memory he made one rather big mistake that led to a giveaway and a SC early in the second. However, he still made a great play offensively where he stepped through three blues defenders and out waited another to setup Gagner on a beauty chance. It's too bad that a trailer had just got to Gagner to break up the play, it looked like we were going to get a solid SC out of Tom's efforts.
- Stoll and Torres continue to do very little. I missed the Dallas game, but if this was the kind of effort they put up, then those two still have a long way to go.